DMG - Appendix C
Random Monster Encounters
I was originally going to post this on Thursday but the sad news of Ray Harryhausen's death (at the age of 92) has spurred me to post early. Everyone who roleplays today owes a great debt to his pioneering work bringing some of movies greatest monsters to the silver screen.
For those abut to roll, we salute you.
My recent
DIY Gelatinous Cube
post got me thinking "how much moolah would it take to put together a monster minis collection for each level of Random Monster Encounter (as per Appendix C of the Dungeon Masters Guide)?
For those who just want to slobber over pictures of old school minis I've put a
pinterest board together showing all the options
.
Giant Ant - (Qty 1-4)
Badger - (Qty 1-4)
Dark Sword - Epic Honey Badgers
Fire Beetle - (Qty 1-4)
Otherworld Miniatures has their DV4a Fire Beetles as a 3 pack (£9) or a 15 pack swarm (£37.50)

Reaper Miniatures do a metal 2 pack of Fire Beetles ($7.99) which they've recast in their Bone Material so should be available soon at a much lower price.
Manes Demon - (Qty 1-4)
Mega Miniatures Dwarves
(Bob Olley)


Dwarf - (Qty 4-14)
The DMG is not too specific about what types of Dwarves so I'm guessing it's a war party of some variety. I have plenty of dwarves but if I didn't I would look no further than:
Mega Miniatures (via Hurlbat Games Ebay Store) have the old school Metal Magic Fantasy Dwarves range (24 minis) sculpted by master dwarfsmith Bob Olley (£15)
Ear Seeker - (Qty 1)
This creature is too small to be represented by a miniature.
Elf - (Qty 3-11)
Again the DMG lets us down without going into any detail, so this will probably be a war party again, but why would you encounter a war party of elves in a dungeon, there's still gotta be some logic to it. You could just assemble a group from player character miniatures, but it is nice to have a group all wearing the same sort of armour and having the same style.
Mirliton SG - Wood Elf Swordsmen
Gnome - (Qty 5-15)
Help me out DMG!! what are these gnomes of which you speak. I'm going for some sort of war party (if gnomes even have those).
Stonehaven Miniatures succsessfully Kickstarted an anime looking Gnomish Adventurers set which has stretched quite a ways expanding the range. Sadly their webstore doesn't seem to include these new minis yet (If I can help throw some webskills at the problem, let me know guys!!) but you can still take advantage of the Kickstarter pricing.
Reaper Miniatures do some nice gnome character figures, but I particularly like their nasty looking 06201: Bloodstone Gnome Pulgers 9 pack - but pricey ($39.99)
Goblin - (Qty 6-15)
At last we hit a proper dungeon bash monster, as so many companies do goblins it would be futile to list them all but I like:
Halfling - (Qty 9-16)
I'm beginning to hate you DMG. Seriously why would Halflings be a wandering monster have we just wandered into their village?... in a dungeon!!
Hobgoblin - (Qty 2-8)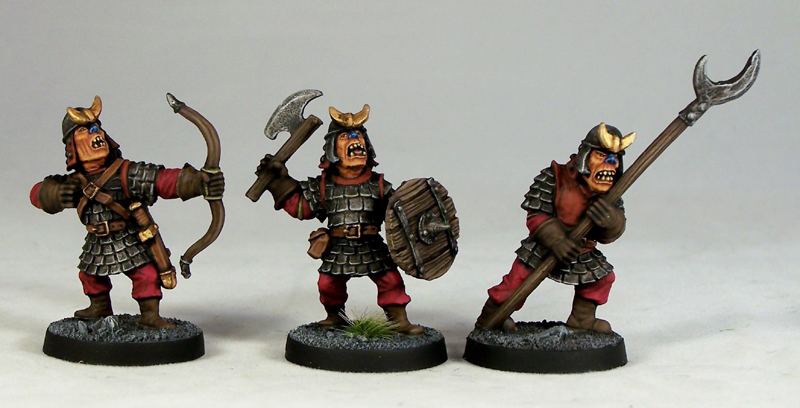 Otherworld Miniatures Hobgoblin Warriors
Humans
Random encounters with humans can be one of 4 different sub types
Bandits - (Qty 5-15)
Mega Miniatures - Thieves Guild
Sculpted by Joseph Ochman
Mega Miniatures have their Metal Magic Thieves Guild range sculpted by Joseph Ochman. A Bargain at £15 via Hurlbat Games ebay store .
Berserker - (Qty 3-9)
Brigands - (Qty 5-15)
Mega Miniatures Metal Magic Castle Guard range sculpted by Joseph Ochman. I'm starting to sound like a stuck record (that's OSR!!) A bargain at £15 via Hurlbat Games ebay store.
Character - (Qty 2-5)
This is actually supposed to be an NPC adventure party. Clearly dungeoneering is a competitive business, perhaps someone should form a Guild or something.
Kobold - (Qty 6-18)
Dragon or dog varieties, I'm not fussy either way.
Orc - (Qty 7-12)
Pig-faced orcs only, the GW slack jawed ones need not apply for this job.
Piercer - (Qty 1-3)
No commercially available miniatures, I guess I have to make my own then, this will be a fun project (stay tuned).
Giant Rat - (Qty 5-20)
Otherworld Miniatures do their beautiful 5 pack of DV3a Giant Rats (£11) sculpted by Jo Brumby. A boxed set of 20 is also available for £32.50 saving you some money.


Lead Adventure do a 10 pack of really ferocious looking PA26 Giant Rats (€14.95) guaranteed to scare off any meatshields (and some PCs for that matter).



Nasty looking Giant Rats from Lead Adventure

Reaper Miniatures have recently recast their metal Giant Rats ($5.99) as a 6 pack of Bones Giant Rats ($3.49) but also do two scary looking Barrow Rats ($8.99) a 4 pack of Dire Rats ($6.99) and their 2 pack Rat Swarm ($5.99) which should meet all your rodent needs.

Rot Grub - (Qty 1-3)
Scibor do some Rot & Grub resin bases (€7.52) which would fit the bill, but honestly how hard can it be to model some grubs on a base out of modelling clay?

Shrieker - (Qty 1-2)
I already have these but I know many out there don't and no dungeon would be complete without fungi.
Otherworld Miniatures do their wicked 3 pack DM11 Shriekers and Violet Fungi (£11)

Otherworld Miniatures - Shriekers and Violet Fungi

Centre Stage Miniatures have their Shrieker and Deadly Fungi (£7.25)
ScotiaGrendel still do their generic resin Fungi (£8) having a patch of fungi appearing as a piece of scenery which is a monster rather than a single miniature has always made more sense to me.
Skeleton - (Qty 1-4)
I have plenty of skellies, but if I didn't, I would go for:
Denizen Miniatures have been selling their Legion of the Damned Skeletons (£1 each) for years and I own a few so have a particular fondness for them. Frankly their website sucks (Chub, I'd love to help you out with this.) but you can see the whole range at the Lost Minis Wiki. They are true 25mm and slightly smaller in comparison to other manufacturers but they have honest old school charm and realistic action poses.


Steve Barber Models channels Ray Harryhausen with his awesome GMH4 Children of the Dragon's Teeth 6 pack (£7.99)
Steve Barber Models "Children of the Dragon's Teeth" skeletons
Zombie - (Qty 1-3)
I mostly have modern zombie miniatures, so these I actually need.
Few... That was a monster bit of research!! (geddit) The upshot of which is that it's going to cost a shedload of dosh, between
£300
($470) and
£400
($625) just to stock level 1. This kind of backs up my love of paper minis, but they just don't have the same weight.
Mega Miniatures is closing down!!
After 10 years of operation, they have decided to close their doors and will begin selling off their moulds on 1st June 2013. Hopefully they will be snapped up by another miniature companies and these OSR mini ranges will live on under new ownership. I'll try to update this post when I find out who has bought which ranges.